Our original art class, going on to 5 years running!
This class began with the purpose of providing kids and teens with a place where they could draw everything fine art teachers told them they couldn't.
For every child who has ever been told their art is weird,
Every child who has ever been told that anime is not art,
Every child who is obsessed with drawing monsters or Jedi Knights,
and especially for whose kids who feel like they are different from other kids because of their love of art or nerdy pop-culture…
This class is made for them.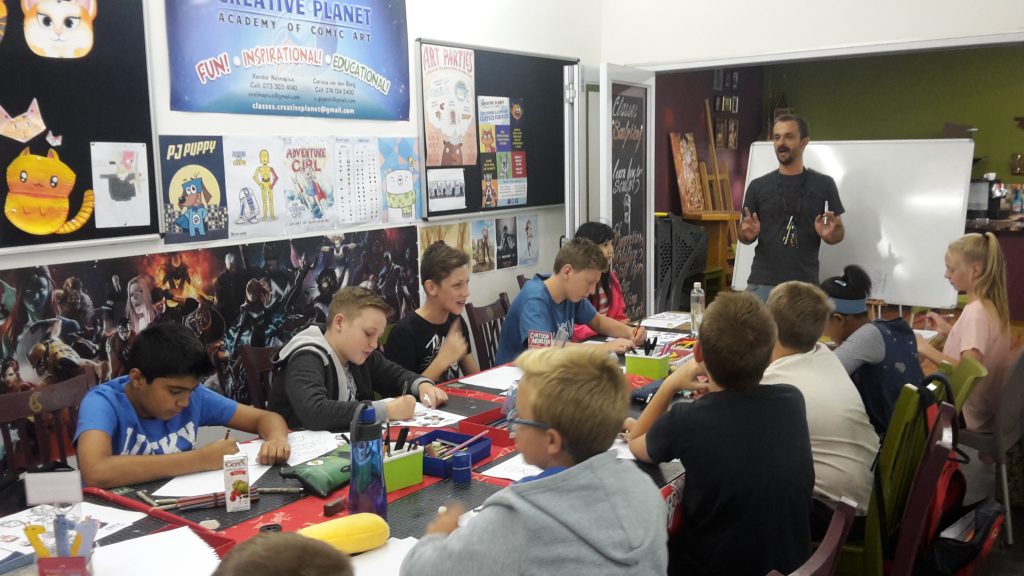 This class teaches students drawing fundamentals, various drawing styles, and how to draw effectively from their imagination, while giving them the opportunity to expand on their creativity in the direction that they want.
Each class is split into 2 drawing sessions
• The 1st hour is spent working on lessons we prepare.
• The 2nd hour is a free-drawing session where students may draw anything they like while practicing what they learned in the lesson.
The focus is on cartoon and comic art – Basics of anatomy, character design, and story development. Individual attention is given to each student and we respect that each child has their own skill level and pace of learning.
CLASS DETAILS
These drawing classes are hosted every Saturday morning.
Students can sign-up any time throughout the year and can attend the class for any number of months.
Classes are 2 hours long.
The class is split into 2 groups for more focused learning:
GROUP 1
For boys aged 9 to 13
Focusing on: character development and story-telling through illustration & comics.
GROUP 2
For girls aged 11+ and boys aged 13+
Focusing on: comic anatomy, anime art styles, comic book creation & character design.
2018 KIDS ART GALLERY