Tuesdays 14:30 to 17:00
COST: R620 per month

An ongoing class that
kids can join at any time throughout the year
A brand new weekly class where kids can learn how to 'paint' characters and backgrounds digitally.

We'll teach students how to bring a traditional drawing into a program called KRITA, how to lay down flat colours, how to add shadings, and also how to paint background art.

Students don't need any previous experience with a digital drawing program. We will teach them everything from scratch, so absolute beginners may join as well as those who have played with programs like FireAlpaca, SAI, or IbisPaint.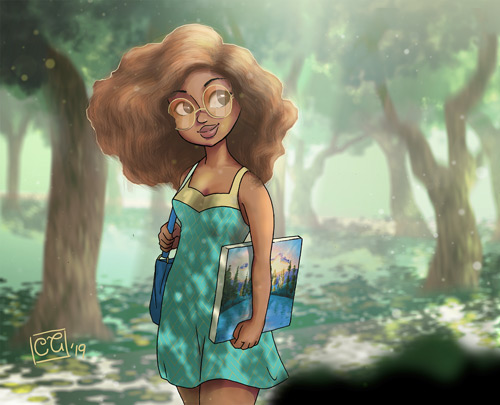 Details of the Class
New students are accepted any time throughout the year.
AGE GROUP: 12+

THE PROGRAM
The program we use in class is called KRITA. It is a free, open-source program that is the best program for painting next to Adobe Photoshop.

The program is provided for each student, which they can install on their laptop in their first class.


REQUIREMENTS
It is essential that student can bring a laptop and a drawing tablet to each class. We do not provide any hardware for students.

Any laptop will do – even the most basic laptop can run Krita.
We recommend the Wacom Intuos drawing tablet for students.


THE PROGRAM
After learning the basic controls of Krita, each subsequent class will have a general assignment with outcomes specific to each student.

Class projects will include:
Basic character colouring (flat colours)
Painting skintones
Basic lighting and shadows
Ambient occlusion
Reflected lights
Painting objects and elements
Painting hair
Shapes in landscapes
Landscape paintings
It is essential that student can bring a laptop
and a drawing tablet to each class.
Class Dates and Times
TUESDAYS
14:30 to 17:00

The class officially begins at 3pm. The half hour before is for students to set up their laptops.
How to Register
Follow the link and complete the Registration Request form.
We will contact you with availability and set up a date for a trial class.
Art from the Teacher