CLASS AVAILABLE ON THESE DAYS:
SATURDAY MORNINGS
09:00 to 11:00
SATURDAY AFTERNOONS
12:00 to 14:00
R720 per month
This weekly class is for kids who love to draw. We teach them about comic and cartoon anatomy, anime styles, character design, how to draw animals, background drawing, and how to create comics.

We don't do any Fine Art here – Its all about creation and teaching skills for modern styles.
Of course, Fine Art provides undeniable fundamentals that are essential for anyone interested in art careers, but we are more interested in inspiring a positive love for art and creative imagination.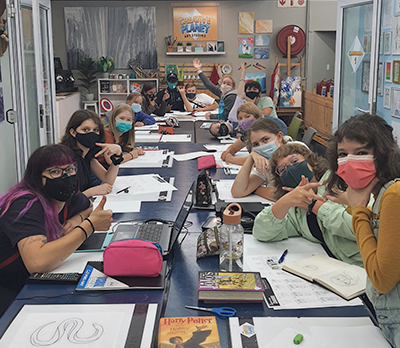 How the Year Works
The year is split up into short courses that tackle certain subjects.
Here are some subjects we'll be exploring this year:

How to Draw Kids • Drawing detailed Cartoon Faces • Dynamic Poses • Drawing Ninjas • How to Draw Dragons • Animals like Cats & Dogs • Easy Light and Shadow Techniques • Drawing Clothing • Anime (Semi-Realistic) Anatomy • Inking Techniques • How to Draw Environments (Interiors and Landscapes) for Comics • Comic Paneling
Throughout the year, students are encouraged to find their style.
Each class has a specific outcome, but students have the freedom to interpret every lesson according to their interests and drawing style.
Class Dates and Times
THURSDAYS
15:00 to 17:00

SATURDAYS
09:00 to 11:00

SATURDAYS
12:00 to 14:00
How to Register
Complete the Registration Request form above.
We will contact you with availability and confirm a date for a trial class.

New students may register anytime throughout the year.